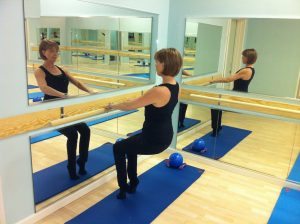 What Is The Amy Heidecker Method™ Barre Fitness?
The Amy Heidecker Method™ of Barre Fitness is an INTENSE full body workout that uses the student's body weight and a ballet barre. At The Barre Fitness Studio, we combine moves in a safe and effective way, offering low impact fitness that QUICKLY sculpts your body. Fat burning is a result of the combination cardio and strength training. Your body will transform with improved posture, balance, and long, lean, defined muscles.
How do I get started?
It is best to register online to secure your place in the session of your choice, or you can call to reserve your spot. Walk-ins are limited to availability, so we strongly recommend that you make a reservation. Please come at least 10 minutes early to set up your area and for a short assessment regarding your health.
Late arrivals will not be permitted into classroom.
A locker room is available to leave your cell phone, shoes and other personal belongings. No cell phones will be allowed in the classroom. We pack so much into each session that it requires your complete focus and we want everyone to get a distraction-free workout. Filtered water is available for your personal bottle.
What do I wear to a session?
Comfortable exercise wear, capris and tank or exercise tops (please no mid-drifts or exposing tops). You may wear clean sneakers, be barefoot, or wear traction socks. We have a variety of logo shirts and hoodies for purchase in our lobby. We STRONGLY recommend sneakers for Small Group Fitness and Private Fitness Training.
Is it cardio?
You bet! INTENSE combinations of major muscle strength training intervals keep that heart rate pumped up for maximum fat burning! Small Group Fitness takes cardio to a new level.
Who can participate?
Every fitness level and age (14 and over) is welcome. A doctor's permission is advised for those with underlying medical conditions. A parental signature is required for minors.
If you have special issues, you may feel more comfortable in group sessions after a couple of private sessions with one of our instructors to address your condition. We offer an Intro-to-Barre package for this purpose. (2 privates + 1 unlimited month)
How do I know which session to choose?
Come to the session that most fits into your schedule. All sessions are taught with modifications for more or less intensity depending on your fitness level or special needs. We keep our session capacity smaller so that our trained instructors can provide appropriate modifications to each student.
I have not worked out in a long time and feel like a beginner, can I come to any session?
Absolutely! Come to the session that most suits your schedule. Our trained instructors offer modifications to meet every fitness level. We want you to listen to your body and make modifications as needed. If you are working at YOUR 100%, you will see improvements in as little as 8- 10 classes.
Do I have to be flexible to be able to keep up?
No, we are always working to improve our flexibility. Each session is structured with a warm up, then each muscle group worked will be followed with a refreshing stretch, and the final cool down includes stretching those warm muscles with the purpose of increasing your flexibility.
Do I have to know ballet?
No, the ballet barre is used primarily for stability during some of our more intense cardio and strengthening moves. There is no real ballet in The Barre Fitness Studio sessions, however, some of the moves are derived from basic ballet. And NO, you do not have to put your foot on the barre. (the most frequently asked question)
Will this method improve my balance and posture?
Yes. Our techniques and programming are designed to strengthen the stabilizing muscles that improve balance. Specific strength training of the muscles involved in good posture, and instructional reminders will ensure postural changes and improvement.
How often can I attend, and when will I see results?
The Barre Fitness Studio offers a stand alone exercise method that incorporates cardio, strength, flexibility, and endurance, so you can attend daily if you wish. Our programming is actually designed for you to attend daily, working different muscle groups in a different modality every day.
A good start is 3-5 classes per week, but some folks prefer a daily workout. Typically, results are seen in as few as 8- 10 sessions.
May I participate if I am pregnant?
Yes, if you are already active. If your physician has recommended exercise, this is a great choice, as there is no impact, and prenatal modifications are provided. We offer alternative moves and modifications based on ACOG recommendations.
Is there babysitting?
No, we are sorry, no babies in carriers, or children (no matter how well behaved they may be) will be allowed in the classroom or lobby. There will be no one available at the front desk to watch them in the lobby, so it is best that you make other arrangements.