THE BARRE FITNESS STUDIO is a boutique fitness studio designed for a discerning clientele. We offer affordable small group fitness classes, as well as personal training sessions and medical exercise training in a private, non-competitive environment.
THE BARRE FITNESS STUDIO CLASSES
The Barre Fitness Studio sessions are based on The Amy Heidecker Method®, a safe standard of exercises based on over 40 years experience in the fitness industry. Our INTENSE, FULL BODY WORKOUT incorporates a ballet barre and the student's own body weight to achieve STRENGTH, ENDURANCE and FLEXIBILITY. The low-impact yet high energy sessions are designed to burn fat, produce strength, and improve posture.
Each session has a small number of participants thus ensuring personal attention. There are no machines, but dumbbells, weight bars, and tubing are incorporated into the technique. We offer modifications to make each class appropriate for any age or fitness level. Instructors are trained and certified at The Barre Fitness Studio using The Amy Heidecker Method®.
Come and experience fitness with fun music, and focus on individual attention in a luxury environment!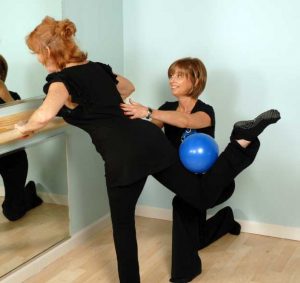 BARRE FITNESS sessions are different everyday, yet taught with the same basic format, and open to all fitness levels. Sessions are 30 and 50 minutes. Barre Fitness is high intensity, low impact, cardio, strength and flexibility training. Personal focus on posture and technique is ensured by trained instructors in a friendly, non-competitive atmosphere.
CircuitBarre is an intense 45 minute session including weights, TRX, Step, Foam Roller and a variety of other resistance equipment.
INTRO-TO-BARRE offers two Private Intro To Barre sessions! A great way to get started safely. We will address any fitness limitations you may have and offer appropriate modifications.
PRIVATE BARRE/Medical Exercise Solutions Private sessions are 30 and 45 minutes of one on one fitness. Medical Exercise Instructors utilize appropriate programming based on student needs, injuries, and medical background. Private Sessions focus on the student's goals, desires and needs. Every session includes functional agility, balance, strength, posture, and strength training. A variety of equipment is incorporated including TRX, Step, Weighted bars, Dumbbells, Tubing, Pilates Ladder, and Ballet barre.
$155 – 3 month expiration
LIMITED 12 Monthly
LIMITED 16 Monthly
UNLIMITED Monthly
$115 AutoPay – 2-3x per week
$125 AutoPay – 4-5x per week
$140 AutoPay – UNLIMITED
All memberships include access to Video On Demand
Private Barre/ Private Medical Exercise
$75 – Medical Exercise assessment
$75 – 45 min Medical Exercise session
$50 – 30 min Medical Exercise session
$25 – add on guest fee
$90 – 2 private intro-to-barre sessions lets you learn our method, address any medical or fitness limitations, and learn appropriate modifications.
Classes fill-up fast so be sure to reserve your spot.
Walk-in availability is limited.
No refunds after 7 days.